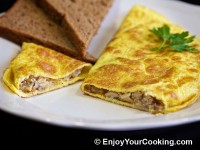 This is a nice breakfast or lunch recipe for two: tender omelette stuffed with mushrooms and onions braised with a spoon of sour cream and seasoned with shredded cheese.
Amount of ingredients listed here is yields exactly 2 omelettes, if you want to cook more – just increase amounts of ingredients accordingly.
And if you fry omelettes one after another, use warm plates to make sure first one is still warm when the last one is cooked.
Ingredients:
4 eggs
1/2 of big onion
6-8oz of champignon mushrooms
1-2 tablespoons of original sour cream
1-2 tablespoons of shredded cheese of your choice
1 tablespoon of oil
1 tablespoon of butter
Ground black pepper to taste
Salt to taste
How to prepare, step-by-step:
Enjoy!