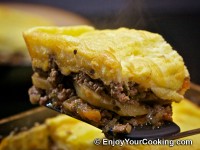 Taste of this dish reminds me of lasagna, with the difference of that it doesn't include neither noodles nor cheese. It also requires much less time to cook than classic lasagna.
Meat sauce prepared of ground beef or veal (or mix of these) with onions, tomatoes and fresh parsley is juicy and very tasty. Bechamel souffle gives it nice hint in both taste and presentation.
Did I mention that this recipe is great for some special occasion?..
Ingredients:
1.5lb of ground beef or veal
2 potatoes
1 big onion
3 roma tomatoes
1 cup of milk
3 eggs
Bunch of fresh parsley
2 tablespoons of all purpose flour
2 tablespoons of butter
2 tablespoons of oil
Ground black pepper to taste
Salt to taste
How to prepare, step-by-step:
Enjoy!
One Response to "Ground Beef and Potato Casserole"