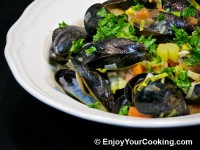 This not complicated recipe is my first attempt to cook mussels. They turned out juicy and light. Thanks to Hans-Peter and his cooking lessons 🙂
Vegetables cooked this way, with wine and mussels juices, taste great as well as mussels themselves, serve them all together!
By the way, 1lb-1.5lb of mussels per serving sounds about right, this way amount of ingredients listed in this recipe is enough to feed 2-3 people.
Ingredients:
3lb of mussels
1 onion
2 carrots
1 stalk of leek
4 stalks of celery
3 roma tomatoes
5-6 garlic cloves
2 cups of dry white wine
2 tablespoons of oil
Fresh parsley
How to prepare, step-by-step:
Enjoy!