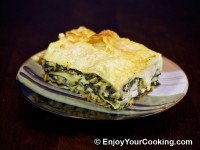 Don't get scared by amount of ingredients: it isn't that complicated to cook chicken lasagna with spinach and fresh cheese at home, especially if you have noodles which doesn't require boiling.
Of course it will take some time too cook stuffing as well white sauce, but at the end you will get whole baking pan of tasty creamy lasagna.
I used fresh spinach, but frozen will work good too, just thaw it before cooking and drain liquid before mixing with cooked chicken. Tvorog (fresh cow cheese) can be replaced with ricotta of the same weight as well.
Serve lasagna 10-15 mins after you take it from the oven; leftovers can be stored in fridge and re-heated in microwave.
Ingredients:
Lasagna noodles for 4 layers
2-2.5cups of shredded mozzarella
1/2 cup of grated parmesan

Chicken and spinach stuffing:

1lb-1.5lb of chicken breasts
1 onion
2 garlic cloves
10-12 oz fresh baby spinach
3/4 lb of fresh white cheese (quark) or ricotta
Fresh parsley
2 tablespoons of oil
Herbs: dried basil, dried oregano to taste
Salt

Bechamel (white) sauce:

1/2 cup of butter (1 stick)
3.5 cups of milk
1/2 cup of flour
Salt
How to prepare, step-by-step:
Enjoy!