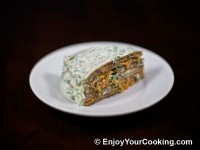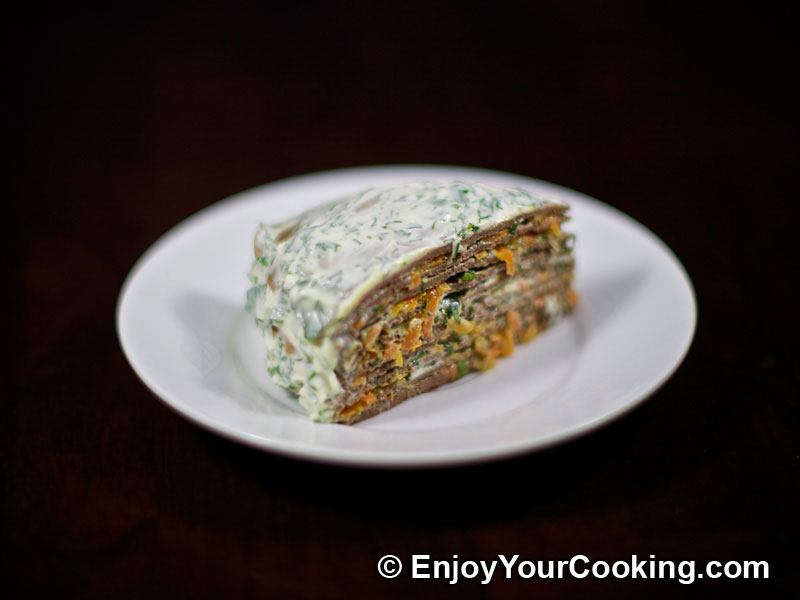 Layered liver cake, dish of traditional Ukrainian cuisine, is often served as appetizer on various celebrations, in fact I tried it first time on a wedding.
For this recipe I used chicken liver, but beef liver will work good as well.
Carrots and onions stuffing can be skipped all together – it will decrease cooking time and reduce amount of mayo to be used (since layers will not need that much mayo to stick together). However carrots go great with liver.
How many layers you get from this amount of ingredients depends on the size of the frying pan you use. I think 11" frying pan is the best – not too big not too small. The ideal amount of layers for this recipe is about 12; if you get more split them in half and assemble 2 cakes.
Ingredients:
3/4 lb chicken liver
2 eggs
1/2 cup of milk
1/3 cup of all purpose flour
2 tables spoons of oil + a bit more for frying
2-3 carrots
1 big onion
2-3 garlic cloves
1-1.5 cups of of mayo
Fresh dill to taste
Fresh parsley to taste
Salt to taste
How to prepare, step-by-step:
Enjoy!
9 Responses to "Layered Liver Cake"