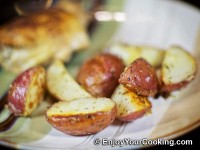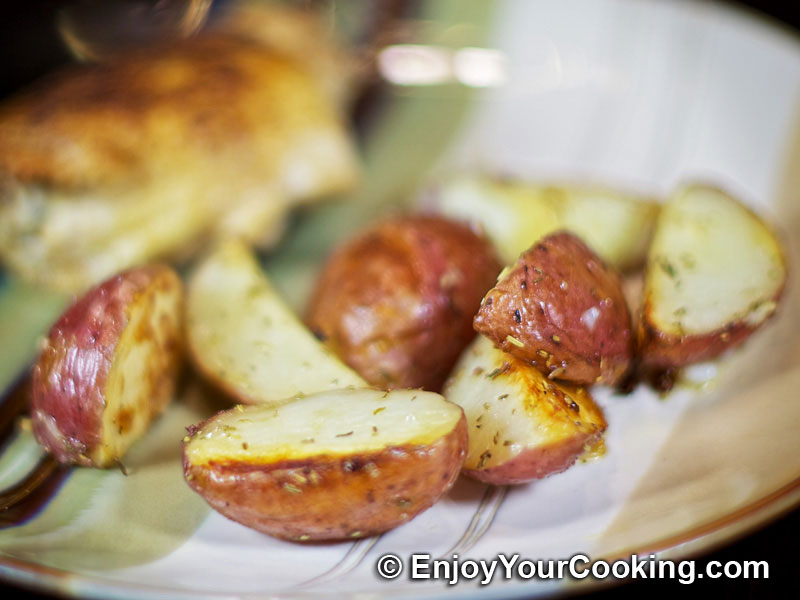 I think any kind of potatoes can be cooked this way, however red skin ones are the best here. You can take big potatoes and slice them in smaller wedges or smaller ones and cook them whole or sliced in halves.
Vary amount of herbs as well as herbs themselves to your taste, in additional to rosemary, thyme, oregano you can use parsley, dill, black pepper, etc; I would just advise to keep rosemary in – it goes great with potatoes.
Over-roasted herbed redskin potatoes can be a no-meat dish on itself or you can accompany a meat entry with it as a side dish.
Ingredients:
2lbs of red skin potatoes, about 12-14 potatoes
Olive or sunflower oil, about 1/3 cup
Dry rosemary to taste
Dry thyme to taste
Dry oregano flakes to taste
3-4 cloves of garlic
Salt to taste
How to prepare, step-by-step:
Enjoy!
6 Responses to "Oven-Roasted Herbed Redskin Potatoes"