Celery Root Salad with Apples and Eggs
January 14th, 2012 in Salads by Julia Volhina

Total cooking time:

1h 00min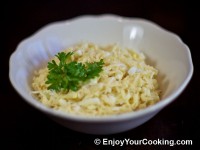 Knowing me you can probably guess that this tender slaw-like salad made of grated fresh celery root, apples and chopped egg is dressed with mayo.
By the way, celery root here is hardly recognizable: it has nutty taste and (if you are not used to it) tastes nothing like celery stalks, maybe because of apples.
I would define this taste as unusual; if you stumble upon fresh celery root in a store – give it a try, after all celery is known as low-calorie source of dietary fiber.
Ingredients:
1 small size celery root
2 apples
1/2 medium size onion
5 eggs
Mayo
Salt to taste
How to prepare, step-by-step:
Enjoy!