Tag:
bechamel

(Page 1 of 1)

February 4th, 2012 in Chicken, Main Dishes by Julia Volhina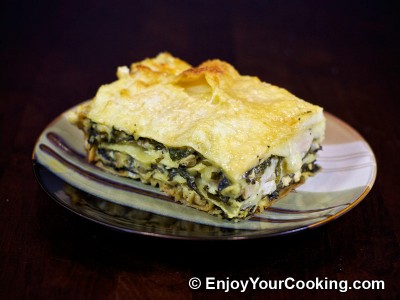 Don't get scared by amount of ingredients: it isn't that complicated to cook chicken lasagna with spinach and fresh cheese at home, especially if you have noodles which doesn't require boiling.
Of course it will take some time too cook stuffing as well white sauce, but at the end you will get whole baking pan of tasty creamy lasagna.
I used fresh spinach, but frozen will work good too, just thaw it before cooking and drain liquid before mixing with cooked chicken. Tvorog (fresh cow cheese) can be replaced with ricotta of the same weight as well.
Serve lasagna 10-15 mins after you take it from the oven; leftovers can be stored in fridge and re-heated in microwave.
July 17th, 2010 in Beef, Main Dishes, Pasta by Julia Volhina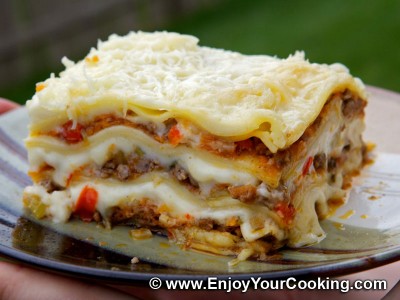 Several weekends ago, when I asked Yuriy what should we prepare for dinner, I got an answer – lasagna, and I was intimidated a bit – I never prepared lasagna before. So I spent some time in internet researching recipes and found several I liked. I've combined them, added some touch to my taste and prepared this lasagna.
This was my first attempt to make lasagna. And main challenge for me was to properly prepare noodles: according to the instructions on the pack they required boiling before using. I've added 2 tablespoons of oil to the boiling water and was boiling them layer by layer and it totally helped to prevent noodles from sticking while boiling.
This lasagna turned out perfectly: balanced combination of meat and vegetables (just how I like it), noodles were very tender, it was totally worth all the time I've spend boiling them, getting out of water and trying arrange them in the pan.
July 25th, 2009 in Beef, Main Dishes by Julia Volhina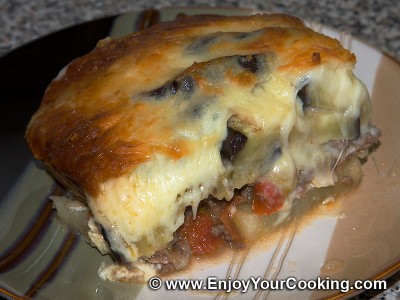 In Greek cuisine, moussakas (moussaka, musakka) is a layered casserole made of vegetables (eggplant as a main ingredient) and minced meat.
It takes a bit of time and require some coordination in order to make it. But even if you spend a lot of time preparing moussakas, it totally worth it! It is great dish, and it tastes good served as hot as well as cold.
Tzatziki is good addition for Moussakas Casserole.