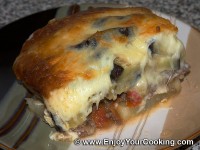 In Greek cuisine, moussakas (moussaka, musakka) is a layered casserole made of vegetables (eggplant as a main ingredient) and minced meat.
It takes a bit of time and require some coordination in order to make it. But even if you spend a lot of time preparing moussakas, it totally worth it! It is great dish, and it tastes good served as hot as well as cold.
Tzatziki is good addition for Moussakas Casserole.
Ingredients:

Casserole:
2-3 potatoes
2 eggplants
10 oz of ground beef
1 tomato or 2 tbsp of tomato paste
1 bell pepper
1 onion
Fresh herbs mix: mint, parsley, oregano (if you have)
Olive oil
Salt, ground black pepper

Bechamel Sauce:
2 oz of butter
2 tbsp of allpurpose flour
1 pint of milk
2 eggs
6-7 cups of shredded cheese (I usually use mozzarella)
How to make, step-by-step:
Bon Appetit!
6 Responses to "Moussakas (Greek Eggplant Casserole)"