---
There is more than one recipe for varenyky dumplings on this website, if you are looking for some other recipe, try here:
all dumplings recipes
.
---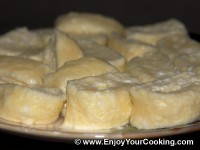 Lazy Varenyky (lazy vareniki, fresh cheese lazy dumplings) is a dish of Ukrainian cuisine. To prepare it you will need fresh white cheese (tvorog, quark) which can be hard to find in a local shop, so try Ukrainian / Russian / Polish shops for more luck or make it yourself.
The word "lazy" in the name reflects the fact how fast and easy this dish is to prepare. It takes less then 20 mins from putting simple ingredients together till Fresh Cheese Lazy Dumplings are ready to be served, and that includes boiling.
Lazy Varenyky dish is good choice for children breakfast: they include fresh cheese – a good source of the calcium for growing body. And of course they are tasty, your kids will love them!
Ingredients:
1 lb of fresh white cheese (tvorog, quark)
1 egg
1 tbsp of sugar
All purpose flour, about 1/2 – 1 cup (for dough and preparation)
Salt
How to make, step-by-step:
Bon Appetit!
12 Responses to "Lazy Varenyky (Fresh Cheese Lazy Dumplings)"