---
There is more than one recipe for cutlets on this website, if you are looking for some other recipe, try here:
all cutlet recipes
.
---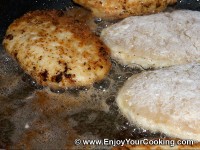 Cutlets prepared of soft ground chicken meat are delicious main course dish. I have a meat grinder, so I like to grind the meat for cutlets myself. However you can also buy a ground chicken meat and just mix minced or grated onion into it instead.
Ground Chicken Cutlets taste good with steamed or sauteed vegetables, fresh vegetable salads (e.g. carrots and garlic salad or cabbage slaw) and, of course, potatoes (fried or mashed), feel free to pick up a side of your choice.
Ingredients:
3.5-4.0 lbs of boneless skinless chicken breasts
2 onions
1-2 eggs
About 2 cups of all purpose flour
Salt
Black pepper
Sunflower oil
How to make, step-by-step:
Bon Appetit!