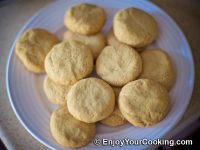 Easy quick recipe for a childhood favorite: oatmeal cookies.
Back in the days we cooked them by grinding rolled oats into the flour, but nowadays one can simply buy oat flour instead.
Either way will work, you may need to play with amount of ingredients a bit.
Consistency of the flour and ground oats may vary a bit, and so can vary sour cream, so adjust amount of flour needed based on dough consistency.
Ingredients:
7oz of rolled oats or oatmeal flour
3 tablespoons of all purpose flour
3.5 oz butter at room temperature
3 tablespoons of sugar
1-2 eggs
2 tablespoons of sour cream
1/3 teaspoon of baking powder
Vanilla sugar or extract to taste
How to prepare, step-by-step:
Enjoy!