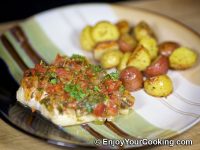 Perfect recipe for pretty much any white fish: easy to cook and turns out tasty and juicy.
I used cod here. Marinating cod in lemon juice helps to bring out nice texture and make sure it is soft.
Sometimes cod can torn out chewy after cooking, but it is not a case with this recipe.
Pair baked cod with boiled or roasted potatoes and a glass of nice wine for a romantic dinner.
Ingredients:
2-2.5lb fresh cod fillet
Juice of one lemon
1 onion
2 garlic cloves
Can of diced tomatoes (14-16oz)
2oz of white chardonnay wine
Small bunch of parsley
1 teaspoon of paprika
Ground black pepper to taste
Salt to taste
A bit of cinnamon
Olive oil for frying
How to prepare, step-by-step:
Enjoy!