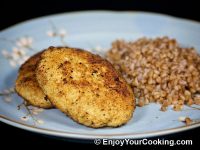 Getting inventive with chicken patties: using cabbage instead of bread or breadcrumbs as filler.
I must say these are a hit: juicy and very tasty.
And so quick and easy to do, especially if you use ready to go minced chicken meat and food processor for cabbage and onion.
These patties taste great with potatoes or grains (I served these with boiled buckwheat), salads as well are great choice here.
Ingredients:
2 lb of minced chicken
2/3 lb of cabbage
1 onion
2 garlic cloves
1 egg
Salt to taste
Ground black pepper to taste
Paprika to taste
About 1 cup of original breadcrumbs
Oil for frying
How to prepare, step-by-step:
Enjoy!
2 Responses to "Chicken and Cabbage Patties"