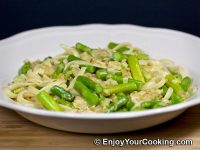 Good recipe for no-meat linguine or fettuccine pasta.
Pretty quick to make, nothing sophisticated, plain and simple steps to follow, as quick as cooking pasta itself.
Secret chief's secret: don't overcook asparagus and don't burn garlic, that is about it.
Great recipe when you are short on time and need to eat.
Ingredients:
Linguine or fettuccine pasta for 2 portions
8oz of asparagus
1/3 cup of parmesan
1/2 of onion
2 garlic cloves
Zest of 1/2 lemon
1 tbsp of olive oil
Ground black pepper to taste
Salt to taste
How to prepare, step-by-step:
Enjoy!