Cilantro Lime Shrimps Salad
April 7th, 2018 in Salads by Julia Volhina

Total cooking time:

15min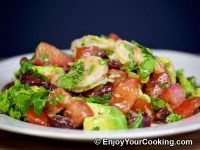 If you have more cilantro lime shrimps on your hands than you can eat or if eating them plain isn't as exciting as it was anymore and you want to add some veggies to your diet, this salad may be an idea to try.
It doesn't take much time to do, and is pretty easy to do: chops veggies, add shrimps and beans, dress and mix.
Cilantro lime shrimps from Costco's will work here, or if you feel adventurous – try to prepare shrimps yourself, as I've described in my previous recipe, either will work for this one.
Ingredients:
8oz of cilantro lime shrimps
3 medium size tomatoes
1.5 avocado
1 can of plain boiled beans (16oz)
Bunch of fresh cilantro
Juice of a half of lime
Olive oil to taste
Ground black pepper to taste
Salt to taste
How to prepare, step-by-step:
Enjoy!
One Response to "Cilantro Lime Shrimps Salad"