Tag:
lemon

(Page 1 of 1)

June 14th, 2014 in Fish, Main Dishes, Tips, Advices & How-to by Julia Volhina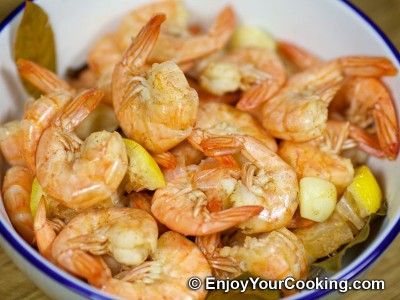 Store sold ready to use cooked shrimps can be used for recipes which call for boiled shrimps (salads, soups, stir fries, etc). Or you can boil raw shrimps and get more tender, tasty and less expensive version of store sold cooked shrimps.
Shrimps cooked this way also work great as a meal on its own, snack for beer or an appetizer.
Use fresh or frozen shrimps, shell-on or fully cleaned ones, or even whole shrimps (these will require more cleaning after though). You can also use this recipe to "unfreeze" cooked shrimps and infuse them with spices (just reduce cooking time to not overcook them).
Usually package instructions say to thaw frozen shrimps before cooking, but I don't do it. Cooking frozen raw shrimps this way works for me just as good not frozen ones and it also saves time.
Cooking time will depend on size of shrimps: the smaller shrimps are, the less time for cooking they require – turn heat off as soon as shrimps float to the surface (this means they are cooked enough).