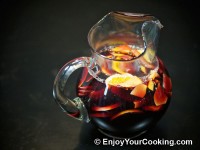 I think there are many recipes for sangria which use various ingredients, but they all are similar in one thing: usage of wine and fresh fruit.
Wine can be either white, or red, or rose; fruits can pretty much anything you have available. Some of sangrias include a bit of rum or brandy.
This recipe calls for red wine, oranges, lemons and fresh peaches. I also add cinnamon and cloves to my taste, but these are optional. And I don't use harder liquor than dry wine.
Any type of dry red wine will work, just pick something not very expensive. If wine is too sour – add more sugar or honey or both.
Ingredients:
1-1.5 bottles of dry red wine (about 2 pints)
2 oranges
2 lemons
2-3 peaches
1/2 cup of sugar
1 tablespoon of honey
1 stick of cinnamon
4-6 cloves
How to prepare, step-by-step:
Enjoy!
2 Responses to "Red Wine Sangria with Peaches, Oranges and Lemons"