Category:
With Alcohol

(Page 1 of 1)

January 3rd, 2015 in Beverages, With Alcohol by Julia Volhina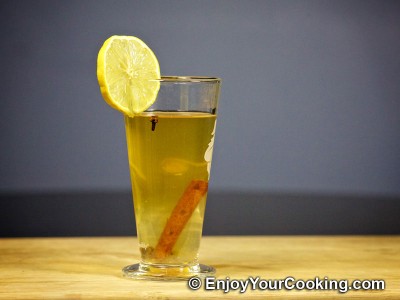 If you are looking for comfort beverage to get warm during cold winter, try spiced hot camomile tea with rum.
Cinnamon and cloves spice the tea up, lemon juice flavors it and rum adds a bit of twist to the taste just enough to help with warming process, serve it hot.
I usually drink my tea unsweetened, but if you need some sweetness use honey (preferably) or sugar to taste.
June 16th, 2012 in Beverages, With Alcohol by Julia Volhina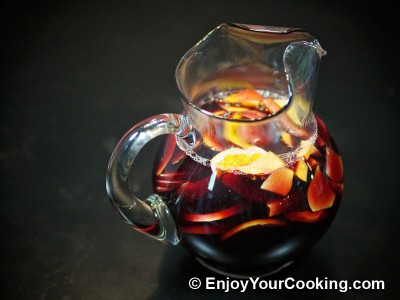 I think there are many recipes for sangria which use various ingredients, but they all are similar in one thing: usage of wine and fresh fruit.
Wine can be either white, or red, or rose; fruits can pretty much anything you have available. Some of sangrias include a bit of rum or brandy.
This recipe calls for red wine, oranges, lemons and fresh peaches. I also add cinnamon and cloves to my taste, but these are optional. And I don't use harder liquor than dry wine.
Any type of dry red wine will work, just pick something not very expensive. If wine is too sour – add more sugar or honey or both.
September 18th, 2010 in Beverages, With Alcohol by Julia Volhina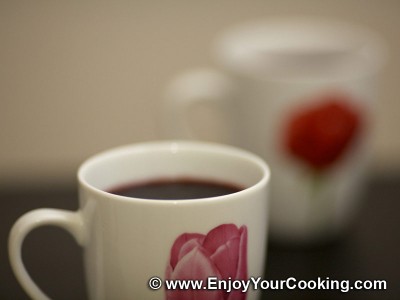 I was unfortunate to catch a cold another day, and somewhere in between sneezing and sweating I reminded myself of mulled wine – probably the best drink to warm you up and clear your sinuses.
Mulled wine, or gluehwein (how it is called in Austria and Germany) or glintvein (how it is called in Russia) is a drink prepared by heating red dry wine with various spices and citruses.
This popular in Europe drink is often sold during cold season around Christmas time on open air markets and fairs – it really helps to warm up.
Glühwein is very easy to prepare, if you prefer – use whole spices instead of ground ones, that will make straining part much easier, however ground spices work just fine. Enjoy responsible!