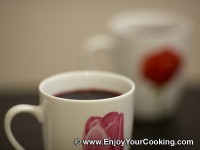 I was unfortunate to catch a cold another day, and somewhere in between sneezing and sweating I reminded myself of mulled wine – probably the best drink to warm you up and clear your sinuses.
Mulled wine, or gluehwein (how it is called in Austria and Germany) or glintvein (how it is called in Russia) is a drink prepared by heating red dry wine with various spices and citruses.
This popular in Europe drink is often sold during cold season around Christmas time on open air markets and fairs – it really helps to warm up.
Glühwein is very easy to prepare, if you prefer – use whole spices instead of ground ones, that will make straining part much easier, however ground spices work just fine. Enjoy responsible!
Ingredients:
Bottle of dry red wine
1 orange
6 of whole cloves
½ teaspoon of ground cinnamon
¼ teaspoon of whole anise
¼ teaspoon of ground nutmeg
1 teaspoon of ground ginger
½ cup of water
2-3 table spoons of natural honey or sugar to taste
How to prepare, step-by-step:
2 Responses to "Mulled Wine (Glühwein)"