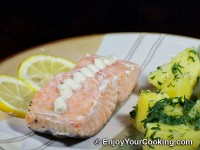 For me the best tasting salmon – is boiled salmon, and with this recipe I get taste of boiled salmon without actually boiling it. The same as boiled salmon this one tastes great garnished with mayo; a glass of white wine is good accompaniment as well.
This salmon roast can be cooked on the grill as well, just pack each fish piece into separate piece of foil and then cook without pan until ready.
Onions here are optional, they give a bit of taste to the dish but they also make sure that fish doesn't touch the foil.
Ingredients:
4 portion pieces of salmon fillet, 1.5lb-2lbs
1 lemon
4 bay leaves
Black peppercorns
Salt to taste
Black pepper to taste (optional)
1 onion (optional)
How to prepare, step-by-step:
Enjoy!
2 Responses to "Salmon Roast in Foil"