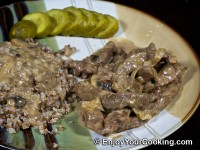 This recipe features a small modification to the beef stroganoff recipe I posted earlier, but a good one: a cup of cream and cremini mushrooms give this dish a very rich taste.
Field mushrooms will also work good in this recipe, but cremini are the best.
As usual, I suggest serving beef stroganoff with a side of boiled buckwheat, it tastes great with mushrooms and cream and, of course, beef.
Ingredients:
3lb of beef sirloin
8oz of mushrooms, I used cremini mushrooms
1-1.5 cups of heavy whipping cream
5-6 bay leaves
1 big onion
2 tablespoons of all purpose flour
Ground black pepper to taste
Salt to taste
Oil, I prefer sunflower oil
How to prepare, step-by-step:
Enjoy!
6 Responses to "Beef Stroganoff with Mushrooms and Cream"