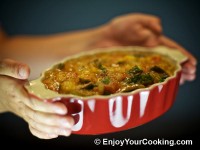 This is recipe of zucchini paste from my mom: easy to cook, contains only vegetables (zucchini, tomatoes and onions) and is very-very tasty.
I usually eat this paste on bread toast, for breakfast or as a snack; however it is also a nice side dish to help increase vegetable servings in your daily diet.
Zucchini paste can be served warm or cooled down.
Ingredients:
3 medium size zucchini
2-3 big tomatoes
1 big onion
2 tablespoons of all purpose flour
2-3 tablespoons of sunflower oil
Salt to taste
How to prepare, step-by-step:
Enjoy!
One Response to "Russian Zucchini Paste"