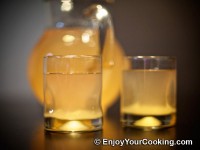 This is another drink from my childhood. I must say I didn't like it back when my grandma cooked it. But it changed since then.
I saw rhubarb stalks in store and it reminded me of her, so I decided to share this recipe with you.
If the taste of kompot is a bit too sour for your liking, add a bit more sugar.
Ingredients:
1.5lb of rhubarb stalks
2/3 cup of sugar
A half of lemon
1 gal of water
How to prepare, step-by-step:
Enjoy!
2 Responses to "Rhubarb Kompot"