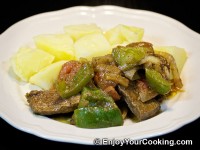 Beef sirloin steak meat marinated in gyros spices and vegetables turns out tender (if meat is of good quality) and somewhat spicy.
Meat needs to marinate for couple of hours, overnight is good, but it can go longer. I usually prepare meat and sear portion of it right before serving, and I store remaining marinated meat in fridge until I need it next time.
Accompanying beef gyros with Tzatziki sauce is a good choice, spices in meat and sauce blend in well.
Ingredients:
2lb-2.5lb of beef sirloin steak
1 big bell pepper
2-3 roma tomatoes
1-2 onions
Olive oil, about 3/4 of cup
Salt to taste

Spices:
4 tsp of ground oregano
2 tsp of ground black pepper
2 tsp of ground cumin
2 tsp ground marjoram
1 tsp of ground coriander seed
1 tsp of chili powder
How to prepare, step-by-step:
Enjoy!
4 Responses to "Beef Gyros with Vegetables and Spices"