Ramps Spring Salad with Eggs and Cucumbers
May 18th, 2013 in Salads by Julia Volhina

Total cooking time:

15min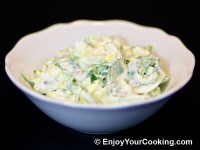 This salad filled with vitamins. But it is highly seasonal, unless you have fresh ramps at your disposal anytime of a year.
I saw them by in Whole Foods other day, and couldn't pass by, had to take an opportunity to make this salad.
Ramps have intense garlicky taste, if you want to make it less so, add a bit more sour cream to the dressing.
Ingredients:
About 1/3lb of fresh green ramps
1 english cucumber (or 3 baby ones)
3 eggs
1-2 tablespoons of sour cream
Mayo to taste
Salt to taste
How to prepare, step-by-step:
Enjoy!
2 Responses to "Ramps Spring Salad with Eggs and Cucumbers"