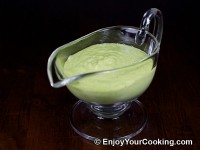 This creamy avocado salad dressing somewhat resembles guacamole dip, after all it consists of almost the same ingredients, just in different proportion.
However it is much more spicy and more liquid which obviously makes it easier to dress salads with it: lettuce salad with tomatoes, avocados and shrimps is my personal choice for this dressing.
Ready spicy avocado dressing can be stored in the airtight container in fridge for several days.
Ingredients:
1 avocado
1 shallot onion
2 serrano peppers
1.5 – 2 lemons (juice)
2-3 tablespoons of olive oil
Boiled water cooled down to room temperature (1-2 cups)
Fresh cilantro
Ground black pepper to taste
Salt to taste
How to prepare, step-by-step:
Enjoy!