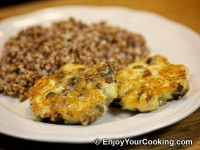 One of visitors of forum I am often read shared this recipe, and I had to try it: it seems both easy to do and very unusual.
And turned out great: chicken meat pieces, mixed with mushroom pieces and cheese, tasty, juicy, melty and just great!
I tried two kinds of side dish with chicken and mushroom cutlets: boiled potatoes and boiled buckwheat, and I liked it. I think fresh veggies salad will be a good addition.
Ingredients:
1lb of boneless skinless chicken breast meat
1lb of field mushrooms
6oz of shredded swiss cheese
2 eggs
4 tablespoons of potato starch
4 tablespoons of original sour cream
Ground black pepper to taste
Salt to taste
Oil for frying
How to prepare, step-by-step:
Enjoy!