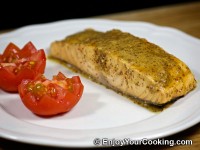 This is very easy way to cook salmon, you just need to put marinade together, pour it over salmon and then cook salmon together with marinade.
I used portion salmon fillets for this recipe (6oz each), but salmon steaks or a whole salmon fish will work here as well. For cooking whole fish increase marinating time for couple of hours or even do it overnight, and bake it instead of frying.
Fresh vegetables or boiled potato are good side dishes for salmon cooked this way.
Ingredients:
1.5lb of salmon, about 4 portions
4 tablespoons of soy sauce
4 tablespoons of lemon juice
4 tablespoons of coarse ground dijon mustard
A bit of oil
How to prepare, step-by-step:
Enjoy!