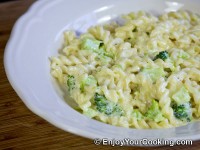 Easy recipe to do fusilli pasta cooked with cream, broccoli and cheese.
I used italian blend cheese mix, but I think other cheese or cheeses will work as well.
As well as other kind of pasta, fusilli seemed like one of the choices, others will work good too.
Just cook pasta to your liking (or/and according to the package instructions until al dente).
Ingredients:
Fusilli pasta for two portions
Water for boiling
1 broccoli crown
1-1.5 cup of heavy cream
1 cup of shredded cheese, italian blend
Ground black pepper to taste
Salt to taste
How to prepare, step-by-step:
Enjoy!