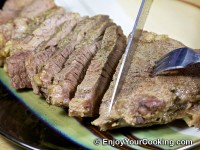 I am trying to avoid fried foods for some time, and while actually doing so, I am amazed with how many recipes I use involve frying.
So I was staying in front of meat counter figuring out what to cook. And then lady behind the counter suggested to roast some beef.
And this is a recipe I decided to go with: roast beef marinated with onions, black pepper, coriander, allspice and bay leaves.
In addition to ingredients this recipe also required an oven bag or dutch oven with a lid.
Ingredients:
2.5lb beef shoulder roast meat
2 onions
1 cup of water or vegetable broth
Ground black pepper to taste
Ground coriander to taste
4-5 allspice peppercorns
3-4 bay leaves
Salt to taste
How to prepare, step-by-step:
Enjoy!
One Response to "Onion Marinated Roast Beef"