Tag:
marinate

(Page 1 of 1)

November 12th, 2011 in Appetizers & Snacks by Julia Volhina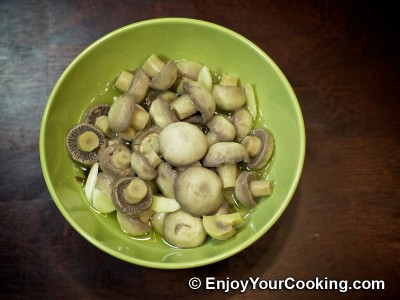 Taste of homemade pickled mushrooms can't be beaten by any brand from the store. If you pickle mushrooms yourself you can control spiciness and acidity to make sure they taste exactly as you want them to.
Champignon mushrooms are most commonly available that is why I used them, but this marinate will work for edible wild mushrooms: boletuses, honey mushrooms and other edible mushrooms as well. However for wild mushrooms you will need to increase boiling time and maybe change water trough boiling at least once.
Mushrooms pickled this way can be stored in the fridge for long time, if you want to preserve them outside of the fridge – use sealing jars and follow the instructions for proper sealing; however I don't see a reason to do so: champignons are commonly available in every store and you can pickle them as much as you want without actually sealing into jars.