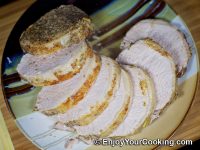 Perfect pork roast made of few ingredients: turns out juicy and tasteful. It is pretty easy to cook, doesn't require much cooking skills if any at all.
This pork roast tastes great warm fresh from the oven, as well as cooled down. Pairs well with roasted vegetables or a salad.
Marinating will require few hours and can go over night if needed.
Ingredients:
2lb pork loin
Bottle of beer
3-4 garlic cloves
1 teaspoon of rosemary
1 teaspoon of ground black pepper
1 teaspoon of salt (or more to taste)
How to prepare, step-by-step:
Enjoy!