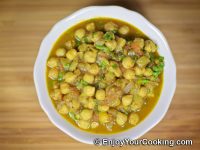 One of the easiest chickpea recipes to make, yet so tasty one. This vegetarian dish will require a little less than 20 mins of cooking.
It can be served on its own, with a bit of bread, or as a side for boiled rice or quinoa.
I think this is one of traditional Indian recipe. Tweak the taste to your liking by adjusting amount of spices or even spices themselves. The recipe calls for garam masala, but a good curry powder will work as well.
I always soak and boil chickpeas myself, drain them before using here (preserve a bit of water they were cooking in). Using canned ones is an option as well, it will certainly be quicker. If going this route, use water at step 10.
Ingredients:
Soak and boil 1.5 cups of dry chickpeas, and about cup of water they are cooking in
1-2 onions
2 to 3 garlic cloves
2 large tomatoes
2 tablespoon olive oil
2 teaspoons garam masala
1/2 teaspoon turmeric
2 teaspoons grated fresh ginger
1 tablespoon of lemon juice
Bunch of fresh cilantro
Salt to taste
Olive oil
How to prepare, step-by-step:
Enjoy!