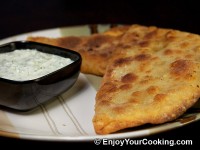 This is another recipe from my USSR-ian childhood. It takes a bit of time and inspiration to cook these from scratch, but it totally worth it.
Even though it is time consuming, with a bit of organization it can be a fun activity to do for whole family together.
I never been a big fan of lamb meat, but these dumplings taste the best made of it. However you can always substitute equal amount of beef and pork mix for lamb meat.
Ingredients:
1 lb lamb (minced or in whole piece)
3-4 garlic cloves
1 onion
Fresh cilantro
3 table spoons of of mayonnaise
Ground black pepper
Ground paprika
Salt to taste
About 1/2 cup of vegetable oil


For dough:
About 4 cups of all purpose flour
1 cup of milk
1 egg
2 table spoons of vegetable oil
A teaspoon of salt
How to prepare, step-by-step:
Enjoy!
6 Responses to "Fried Lamb Dumplings (Chebureki)"