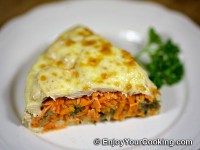 This is somewhat unusual dish to cook: mushroom and carrot stuffing baked inside of chicken meat "crust".
But I assure you, it is totally worth cooking, for romantic dinner for example. Leftovers can be easily warmed up in microwave.
By the way, juices and removing casserole from the dish are a bit easier to handle if you use springform, but casserole dish would work too.
Ingredients:
2.5lb of skinless boneless chicken breast
3 carrots
1lb of mushrooms
1 onion
5oz of shredded cheese
1/3 cup of heavy cream
Juice of one lemon
Bunch of green dill
4 tablespoons of potato starch (can be replaced with the same amount of flour)
Ground black pepper to taste
Ground nutmeg
Salt to taste
Oil
How to prepare, step-by-step:
Enjoy!
4 Responses to "Mushroom and Carrots Stuffed Chicken Casserole"