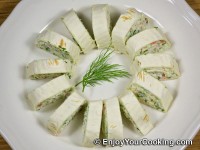 I had some tortillas left from the pack I used on recipe earlier this month. So I decided to post another recipe for tortilla rolls, this time with crab stick, cheese, garlic and greens stuffing.
The same as the first one, these rolls will work perfectly as a snack or an appetizer, and they go great together with beer.
So if you are looking for some unusual snack recipe, here it is.
Ingredients:
3-4 burrito size ready to use flour tortillas
8 oz pack of crab sticks (surimi)
3 oz of shredded cheese
Bunch of green parsley
Bunch of green dill
1 small garlic clove
Mayo
How to prepare, step-by-step:
Enjoy!