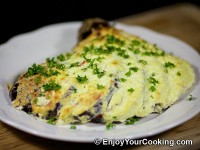 This is nice looking dish which can be served as either a main entree, a side dish, or an appetizer.
It contains no meat, just eggplant, bell pepper, tomatoes, sour cream and cheese.
Eggplant roasted this way looks festive (and will for sure fit nicely on a holiday table), and it is also pretty easy to do.
One medium size eggplant will produce 2-3 servings.
Ingredients:
1 eggplant
Half of bell pepper
1-2 roma tomatoes
1 cup of shredded cheese
1.5 cups of sour cream
3-5 garlic cloves
Green parsley for garnishing
Salt
How to prepare, step-by-step:
Enjoy!