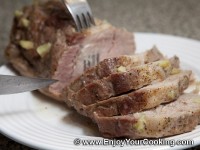 Pork roast by this recipe usually turns out juicy and flavored. It is nice dinner dish, can be served warm or cooled down; leftovers are good for sandwiches.
It takes about an hour to cook from beginning till end. It is very easy to prepare recipe. Apart of main ingredients, which are mainly pork and garlic, you will also need a sheet of cooking foil.
Tastes good accompanied by dry red or rose wine.
Ingredients:
Piece of pork loin rost (boneless) about 1.5lb
5 garlic cloves
1 tsp of ground coriander
1 tsp pf ground pepper
Salt to taste
How to prepare, step-by-step:
Enjoy!
One Response to "Pork Roast with Garlic"