---
Looking for some other cool recipes for St Patricks Day Party? I've got some, try here:
green food recipes
.
---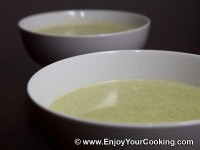 This bright green colored soup-purée (or cream soup) made of chicken, broccoli and some other vegies is probably the quickest to prepare soup I know.
It is also nutritious: loaded with healthy vegetables and white chicken meat, which are boiled, pureed and blended together for tasty creamy texture.
All that makes this soup very good choice not only for kids, but also for people who prefer soft food.
Ingredients:
2lbs of broccoli crowns
1lb of skinless boneless chicken breast
2-3 medium potatoes
1 carrot
Piece of celery root (about ¼ of small root)
1 leek stem or 2 shallots
1 cup of heavy cream or smaller amount of sour cream
Ground pepper to taste
Salt pepper to taste
How to prepare, step-by-step:
Enjoy!
11 Responses to "Soup-Purée with Broccoli and Chicken"