Green Beans Fried with Butter
May 22nd, 2010 in Sides by Julia Volhina

Total cooking time:

20min
---
Looking for some other cool recipes for St Patricks Day Party? I've got some, try here:
green food recipes
.
---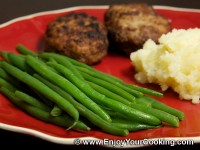 This recipe is one of the simplest ways of cooking green beans: just boil them, then drain and fry until ready; and then you have nutritious side dish which will be nice addition to your main dish course.
Preparation of this dish takes less than 20 mins and can be split in 2 parts to help you save some time: boil beans in advance and them fry right before serving to keep them warm and fresh.
Fried green beans go well with fried or grilled meats: steaks, cutlets, schnitzels, chops, etc. However they can be also served as separate no-meat dish.
Ingredients:
1lb of fresh green beans
1-2 tbsps of butter
Salt to taste
How to prepare, step-by-step:
Enjoy!