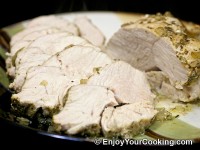 Roast turkey can be served warm with a side dish as a main course, in salad or on sandwich if cooled down.
I used Herbs of Provence mix for this recipe, it includes thyme, marjoram and rosemary. You can use the same or just mix the same herbs to your taste.
Adjust cooking time for breast piece smaller or bigger than mentioned in the recipe.
Juices produced while cooking can be used to prepare sauce for the meat. You can either pour them over the meat or cook them together with flour to thicken them and then chop with hand blender.
Ingredients:
Whole turkey breast half, 1.5lb-2lbs
1 onion
2-3 garlic cloves
1 cup of water
1/4 cup of olive oil
1 teaspoon of ground black pepper
Chili powder to taste
1 tablespoon of herbs mix: thyme, marjoram, rosemary
1 teaspoon of salt or more to taste
How to prepare, step-by-step:
Enjoy!