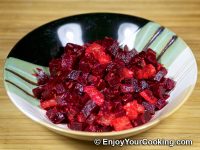 All beets lovers out there (how ever many there are of you), this recipe is for you: cooked beets with sweet oranges dressed up with spicy ginger, red wine vinegar and fresh squeezed orange juice.
I make this one with roasted beets (wrap washed beets skin on in foil, put them into a pan and stick into oven warmed up to 355F for about 1.5h, or more or less depending on their size).
Boiled ones will work as well (see instructions for boiling beets if needed). I never tried this salad with precooked beets.
Size, taste (and sweetness) of both beets and oranges is something which may vary greatly, so there is a lot "to taste" measurements. You don't want sweetness to be overpowering (this is where vinegar and salt come to help, using rather sour oranges will help as well). Also people have variable "tolerance" to taste of ginger, start small and add more to taste. Just be creative, you will not be disappointed.
Ingredients:
2 medium size beets, boiled or roasted until desired softness
2 medium size oranges
3/4 inch of fresh ginger (more or less to taste)
Red wine vinegar to taste
Salt to taste
How to prepare, step-by-step:
Enjoy!Considered to be the most effective legal weight loss medication like Clenbuterol for sale. But they are also the most dangerous, since they have a whole range of contraindications, including: cardiovascular diseases, serious problems with the gastrointestinal tract, renal and liver failure. Our TOP 10 Fat Burners on Alaska Center For Natural Medicine available to order online like Clenbuterol includes the most popular products in a sample over the past few years based on consumer feedback. Therefore, questions like "Which fat burner to choose?" or "Please advise me which fat burner is right for me" will close just fine after reading this article.