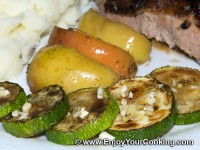 Zucchini itself is low in calories and contains useful amounts of folate, potassium, manganese and vitamin A. Garlic is also very health-giving ingredient. And they both are combined in this fast to do and easy to do recipe.
Fried Zucchini with Garlic is very good on its own as a snack or an appetizer, however it is also perfect for poultry and meat entrees as a side dish.
Reduce amount of garlic if you are worried about a breath, but I really advice to keep garlic in, this dish isn't so tasty without it. Fresh garlic can be replaced with garlic powder if needed.
Ingredients:
2 zucchinis
2-3 garlic cloves
Ground oregano
Olive oil
Salt
How to make, step-by-step:
Bon Appetit!
5 Responses to "Fried Zucchini with Garlic"