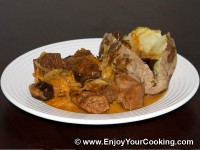 For meat with prunes you can use either pork or beef. I think, pork tastes even better prepared this way, especially if prunes you have are not too sweet, so I advise you to go with pork.
However if you don't like pork for some reasons or if you don't have it just like I did when I were writing this article, you can use beef. I must say it tastes also delicious!
Ingredients:
2.5 – 3 lb of beef or pork (shoulder part or better)
10 oz of dried prunes
1 onion
3-4 carrots
1 tomato (can be skipped)
4-6 bay leaves
Oil (I use sunflower one)
Salt
How to prepare, step-by-step:
Bon Appetit!