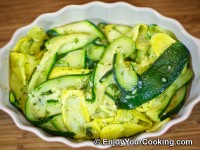 Easy and quick to make dish for summer squashes or zucchini. I actually used both to make this dish looking more festive.
I believe it is also light, especially if amount of oil used is reduced to minimum, squashes are actually being cooked in their own juices.
Seared squashes can be served as a dish on its own or as a side dish for a meat main course.
Ingredients:
1lb of summer squash or zucchini, or a combination of these
1 garlic clove
1 tbsp of chopped fresh greens (parsley and dill)
Thyme to taste
Salt to taste
1 tbsp of oil
How to prepare, step-by-step:
Enjoy!