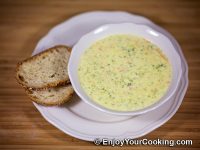 Cold weather winter chill favorite, hot (as in temperature) and hearty, broccoli cheddar soup.
If you like this one just like I do, but wasn't sure if you can make it, think no further: the recipe is pretty easy to follow.
The only tricky part is to make sure flour base doesn't burn and is gradually mixed with half half and chicken broth until smooth and creamy – make sure the heat is low and continue stirring while mixing liquids in.
Ingredients:
3/4 lb broccoli
12 oz sharp cheddar
1 pack (1 pint) of chicken broth
1 onion
1 carrot
3 cups of half half
1/3 cup of flour
2oz of butter + 1 tablespoon more
Nutmeg to taste
Ground black pepper to taste
Salt to taste
How to prepare, step-by-step:
Enjoy!