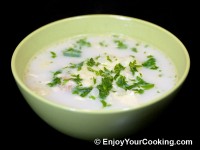 Unusual soup (at least for me): cauliflower florets and with tender chicken boiled in chicken broth and milk thickened with semolina flour.
It requires much less work to prepare that usual soup do: boil chicken and cauliflower and wait until they all become soft to taste. Not much peeling, blanching, slicing, dicing, etc.
You can adjust thickness of the soup by varying amount of water, milk and semolina flour. Add mozzarella directly to a serving bowl if you like taste of melted cheese, or skip it all together if you want to make soup skinnier.
Ingredients:
1 young chicken or cornish hen, about 0.75lb
2lb cauliflower head
7 cups of water
1-2 cups of milk
1/3-1/2 cups of semolina flour, or more to taste
Bunch of fresh green parsley
Ground black pepper to taste
Salt to taste
Shredded mozzarella to each serving bowl (optional)
How to prepare, step-by-step:
Enjoy!
One Response to "Cauliflower and Chicken Soup"