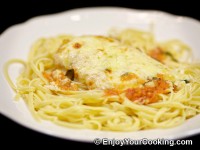 Chicken fried in breadcrumbs and parmesan breading, baked with tomato basil sauce is a perfect dish for the romantic dinner with mediterranean hints in taste.
You can use canned tomatoes instead of fresh to save some time and possible money, but I believe sauce prepared with fresh tomatoes tastes a way better.
Breadcrumbs are also easy to make at home by drying and then crumbling in blender couple of slices of italian bread.
Ingredients:
Chicken breasts, about 1.5lb
1 cup of white bread crumbles
1 cup of grated parmesan
2 eggs
8oz mozzarella slices (around 8 slices)
4 roma tomatoes
1 big onion
3 garlic cloves
Fresh basil
Salt to taste
Olive oil
How to prepare, step-by-step:
Enjoy!