Tag:
cognac

(Page 1 of 1)

September 11th, 2010 in Appetizers & Snacks by Julia Volhina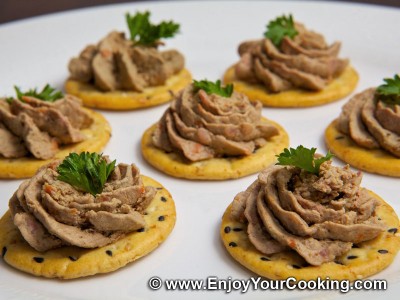 I find dishes from any kind of liver not very popular on this side of the globe. However I can't see anybody not liking this one: chicken liver pâté or "pashtet" like it is called in Russia.
Pate in russian cousine is prepared mostly from liver cooked, ground and mixed with butter and few additions to taste. For chicken liver pate I add onions, carrots, a dash of nutmeg and a spoon of cognac, see the instruction below.
Chicken liver pate can be served as appetizer or snack, on bread, toasts, crackers or flat breads. You can also exercise a pastry chief inner self and arrange pate flowers using pastry bag.